What is RAT for Capella?
The RAT for Capella or RAT – AUTHORING Tool plug-in for Capella MBSE is a software component allowing smart requirements authoring, traceability management and quality assessment within the Capella interface by applying the SES ENGINEERING Studio semantic analysis and Natural Language Processing (NLP) techniques.
The RAT plugin is integrated with the Requirements Viewpoint addon.
Why you might need RAT for Capella
RAT for Capella helps requirements authors to comply with the quality guidelines desired for each project (phase, product, etc.) by providing them with in-real-time quality assessments and structural templates, known as patterns, for requirements. In addition, by connecting models and requirements, systems engineers can ensure naming consistency, automatically define traces, and synchronize in both directions, between models or model elements, and requirements.
Core Authoring Capabilities of RAT for Capella
RAT for Capella involves all fundamental capabilities of the RAT – AUTHORING Tool, which basically includes:
In-Real-Time Quality Measurement
Providing automatic assessment during the requirements authoring process and highlighting the location of each specific issue detected, based on the quality rules and metrics defined (please refer to RQA – QUALITY Studio for more information).
These quality rules and metrics can cover Correctness & Consistency aspects of individual requirements.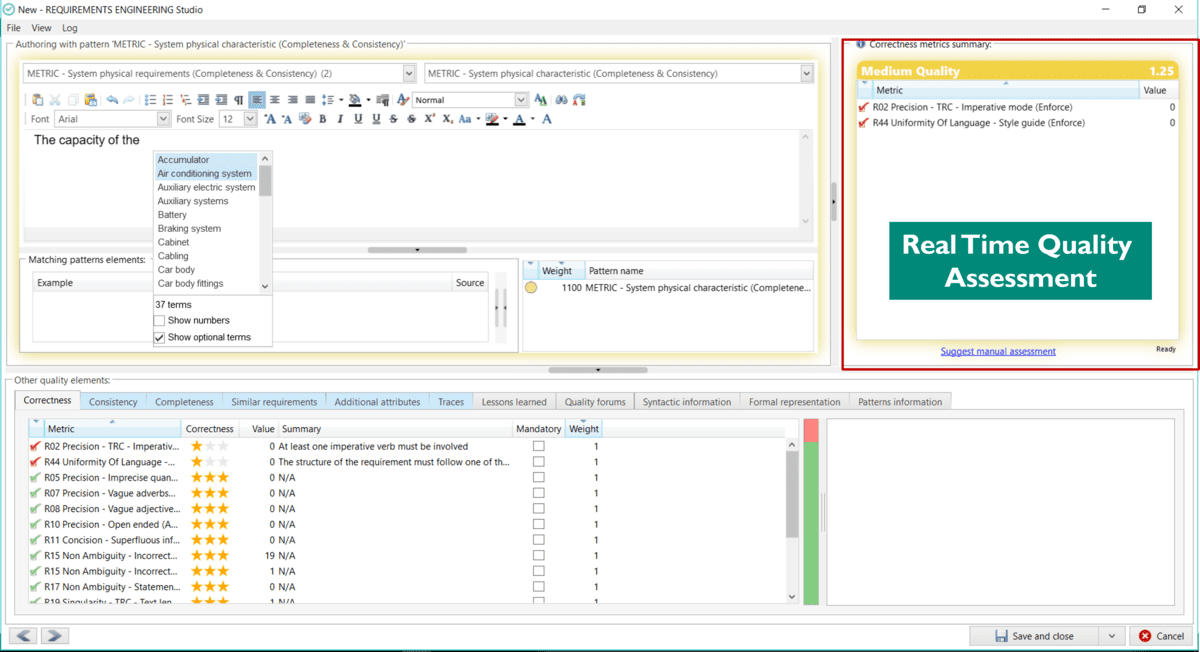 Structural Templates: Patterns
During the authoring process, by applying previously configured patterns (refer to KM – KNOWLEDGE Manager for more information), requirements engineers can follow the template, while being automatically suggested with the list of potential terms expected in the next block.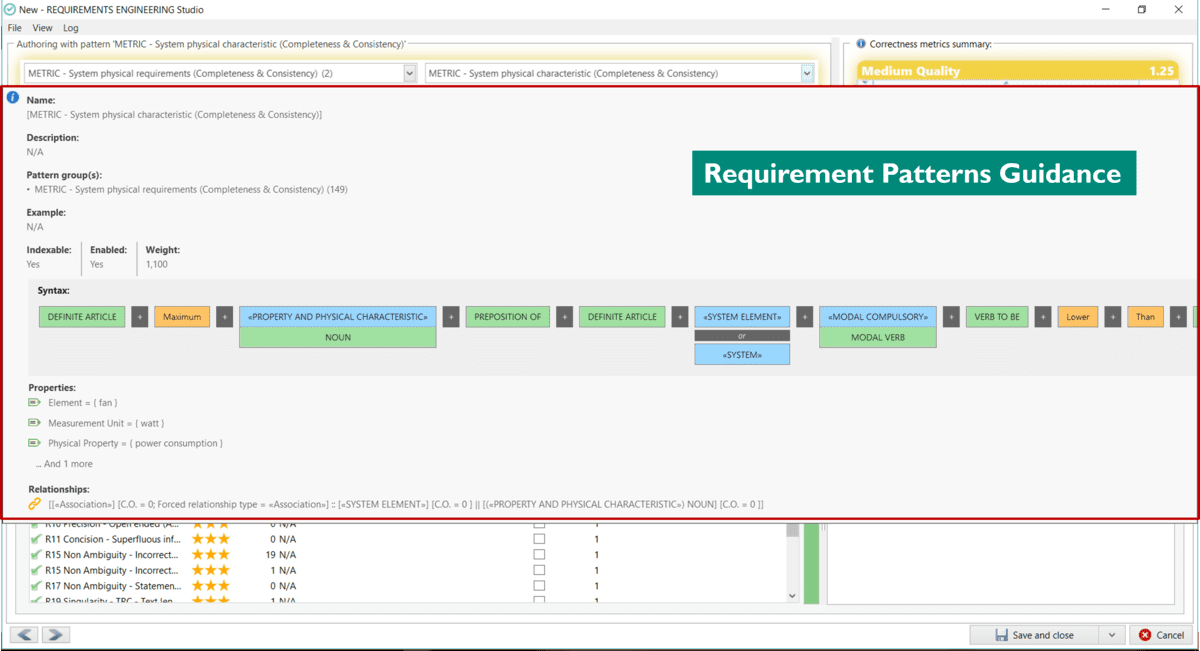 The list of possible terms can be fully tailored, as well as fed with the names of components, states, elements,etc. coming from the Capella model itself.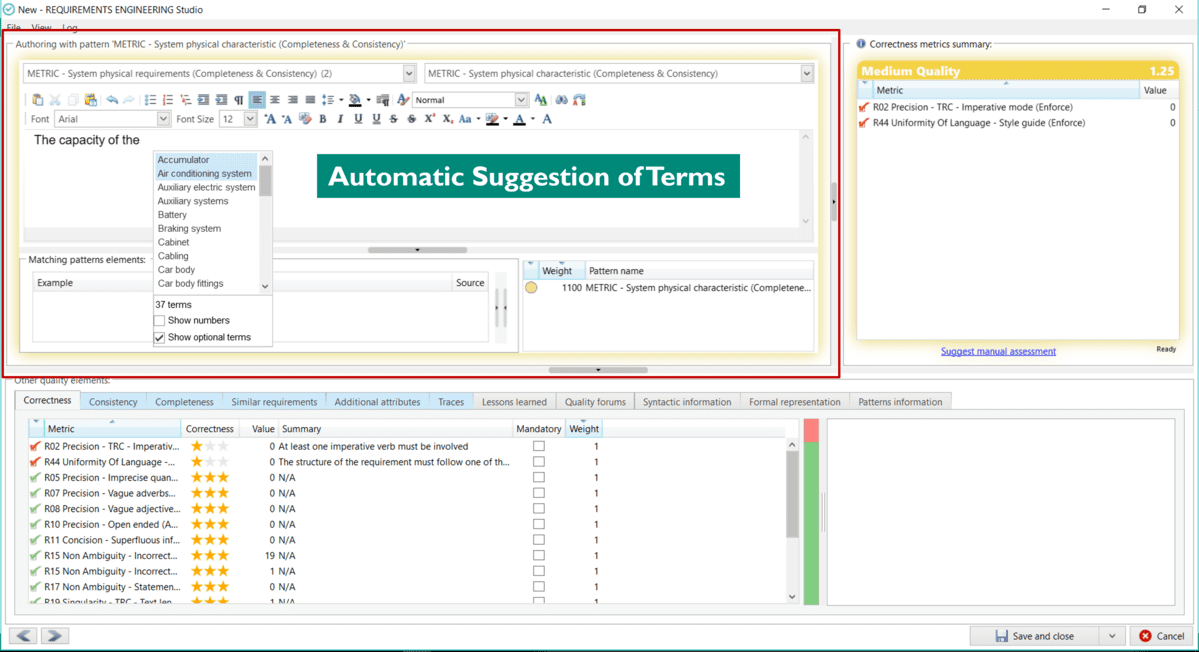 Automatic Requirements Import/Export
The RAT – AUTHORING Tool provides the possibility to seamlessly transfer requirements into and from different information sources.
For more information regarding the full capabilities of the RAT – AUTHORING Tool, please refer to the following link: RAT – AUTHORING Tools
Automatic Traces between Models & Requirements
Within requirements, RAT for Capella is capable of automatically detecting every component, element, state, etc. defined within the consequent model(s). Whenever a term within the requirements is detected, a link between both, the textual and modeling part, is created, meaning that every modification on either side will be immediately propagated to the opposite.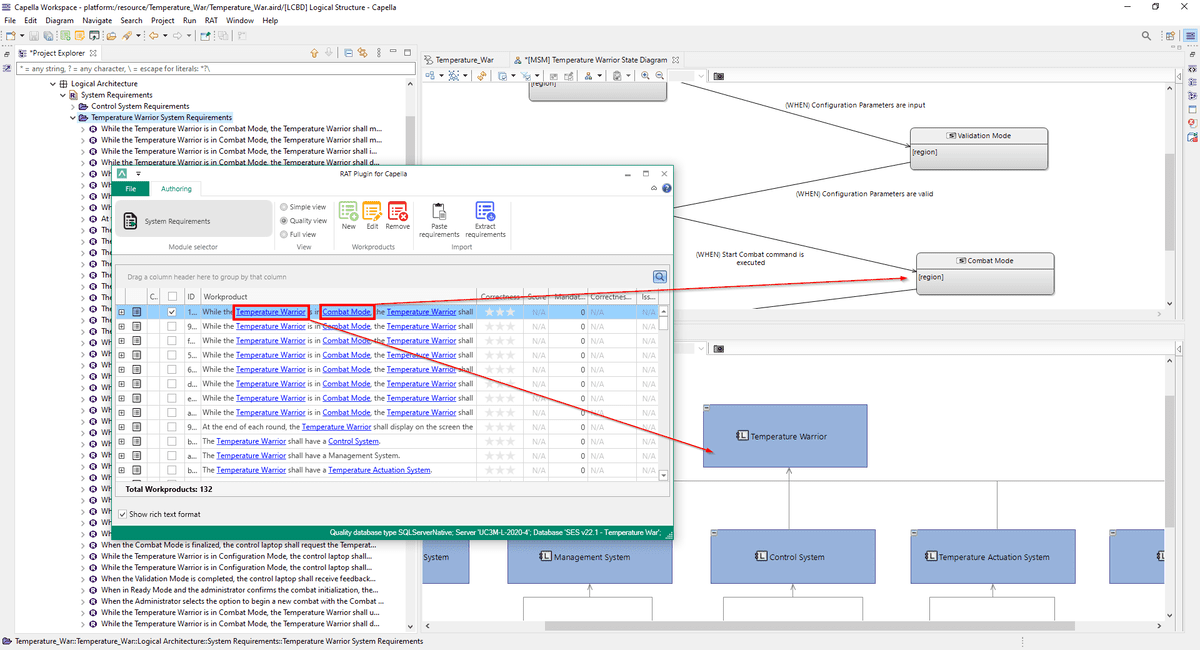 Requirements Synchronization
Requirements managed inside Capella using the RAT for Capella plugin can be synchronized with other Requirements Management Systems (RMS) such as DOORS, PTC Integrity, MS Excel, ReqIF, OSCL, etc. This process is completed in a smart way, being able to create, remove and update requirements taking into consideration the information status on both sides, and offering the requirements engineer the possibility to select specifically the corresponding action.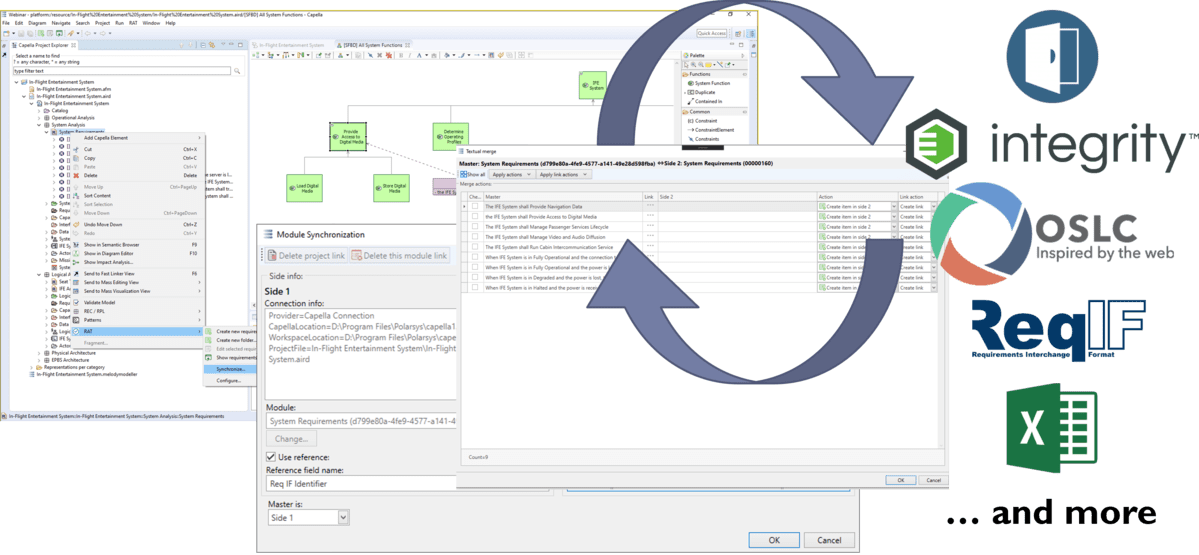 Compatibility & Integrations
RAT for Capella is compatible with the Capella versions 1.3.0 to 5.1.0 (and corresponding Requirements Viewpoints), as well as Teams for Capella.
Additional Resources
If you are interested in further information and the revision of a general use case, feel free to check our RAT for Capella Webinar or directly request a live session with one of our professionals: