Libraries
Knowledge Libraries
KM – Knowledge Manager provides the capability to "pack" pieces of knowledge to be further tailored and reused in different types of projects. This concept is known as Knowledge Library.
Therefore, we can say that a Knowledge Library is a combination of Knowledge items, of different nature, and at different levels of abstraction. Being this knowledge the representation of a business domain or area of knowledge.
The main benefits of using knowledge libraries are, among others:
The promotion of the principle: quality right the first time,
Enabling semantic search portals to archive and retrieve assets,
Thus providing tools to reuse assets at different level,
And reducing time to market,
Improving the way engineers generate (author) new assets,
Enhancing the way items are inspected and verified,
Enabling real interoperability mechanisms and services,
Reducing time to elaborate documents, systems and projects.
A Knowledge Library might content the same type of information as in a regular Knowledge Base managed by KM – Knowledge Manager. So, the following picture provides a quick glance of what could be included into a Knowledge Library: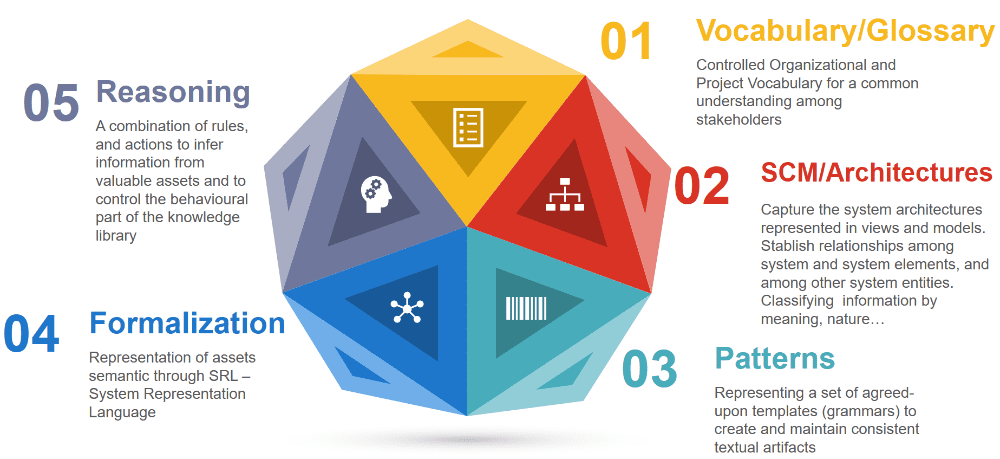 How to import our libraries
Download our available Knowledge Libraries
INCOSE Requirements Guide Knowledge Library
Focused mainly on the metrics defined as quality rules in the INCOSE Guide for Writing Requirements
NASA Requirements Checklist Library
Including specific NASA vocabulary and concepts as well as quality rules to cover the checklist for good requirements.
EARS Knowledge Library
Including mainly the patterns described as requirements syntax in the Easy Approach to Requirements Syntax
SOPHIST Master Patterns Library
Include Master Patterns and 18 rules for Requirements Engineering.
ECSS Knowledge Library
Including the glossary, requirements patterns as rules as defined by the European Cooperation for Space Standardization
Requirements with Numbers Library
Including 17 metrics, dealing with the numbers used in textual requirements.
BABoK® Library
Including a set of Quality Metrics covering the subsequent RADD characteristics and a set of Patterns applied to cover the nine RADD characteristics.