How to enhance your Knowledge Base
Checking and enhancing the quality of requirement specifications is a vital task for ensuring a successful outcome of a project.
Out-of-the-Box the Requirements Quality Analyzer (RQA), and the Requirements Authoring Tool (RAT), help the user to avoid the most common and most annoying mistakes found in requirements.
However, to get the most out of the Requirements Quality Suite (RQS), additional information is needed. Some advanced correctness metrics, as well as most of the consistency and completeness metrics, all require domain specific knowledge to be added to the repository in order to maximise the return on investment.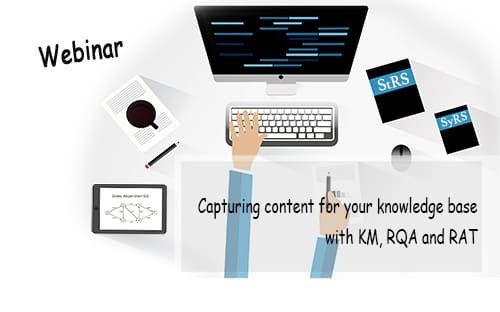 This knowledge is managed with our tool Knowledge Manager (KM), but rather than capture small elements of knowledge, piecemeal by hand, RQS offers several ways to enhance your knowledge base quickly and easily. We support the bulk capture of domain specific nouns and verbs from your existing glossary of terms. In addition we enable the mining of documents using pattern matching for the identification of requirements and the capture of a hierarchally related information, such as Product Breakdown Structures, from structured files.
During this webinar we will explain and demonstrate the mechanisms offered by the RQS Tools to deal with the bulk discovery, capture and management of knowledge, and how sources of knowledge in current, or even previous projects can be used to ease this process.
Agenda
How a knowledge base is structured and managed in RQS
The different roles for knowledge discovery in Systems Engineering and Software Engineering projects
The link between RQA, RAT and KM in the discover, capture and knowledge management processes
A demonstration of how the RQS tools collaborate in discovering and capturing knowledge elements
Sign up for regular information about our webinars!
Book a meeting or a demo with our experts